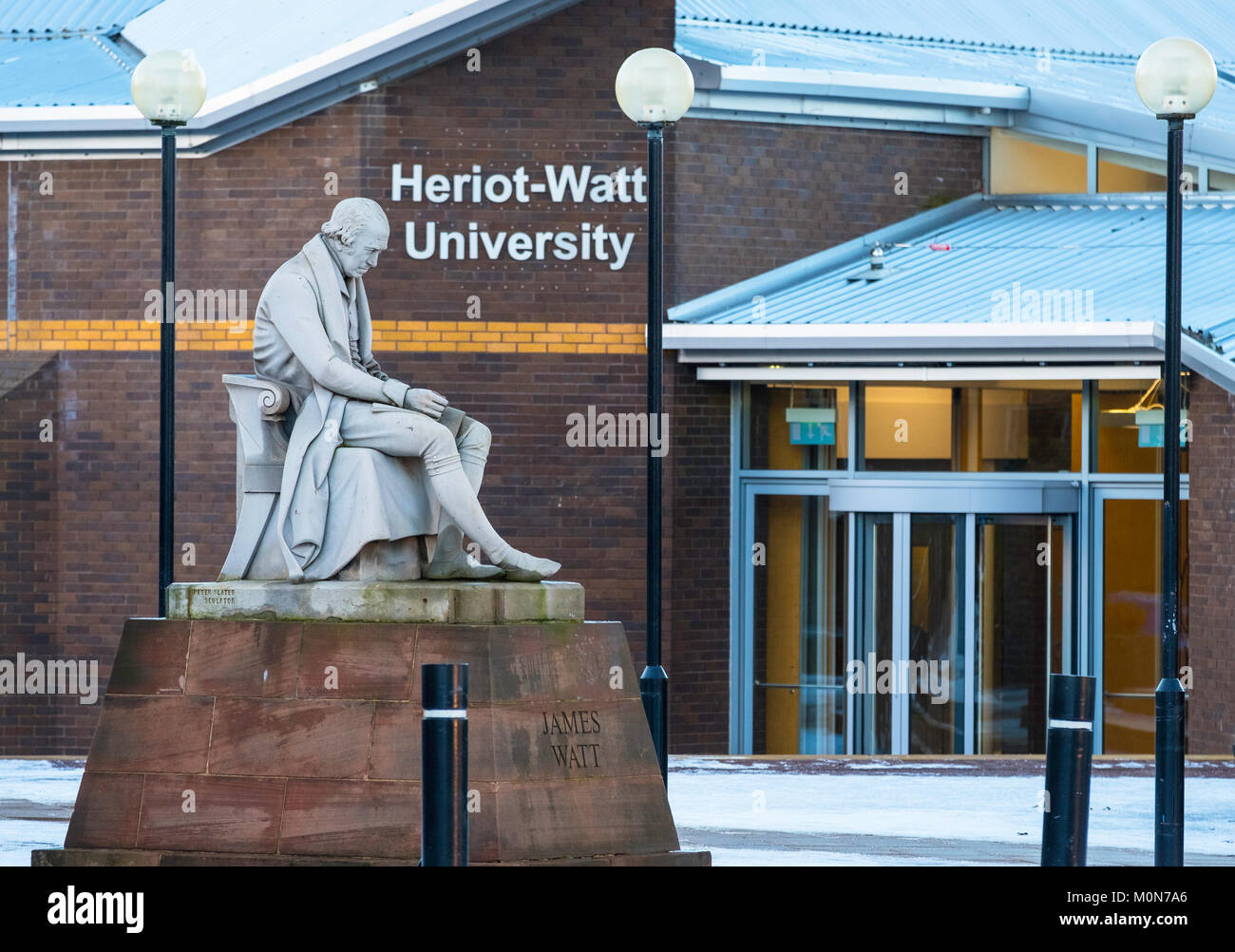 Heriot-Watt University has five campuses: three in the UK (Edinburgh, Scottish Borders and Orkney), one in Dubai and one in Malaysia. The University offers a highly distinctive range of degree programmes in the specialist areas of science, engineering, design, business and languages.
With a history dating back to 1821, Heriot-Watt University has established a reputation for world-class teaching and practical, leading-edge research, which has made it one of the top UK universities for business and industry. We connect with industry at every level and develop programmes to match their needs – so employers get work-ready industry-fit graduates.
Heriot-Watt is also Scotland's most international university, boasting the largest international student cohort.
We have an established set of values that help us to nurture innovation and leadership, and show our commitment to continuous improvement and development in all our activities.
For full details on our University please view our Careers at Heriot-Watt http://www.hw.ac.uk/about/careers-at-heriot-watt.htm.
About our Team
The Student Recruitment team is tasked with developing and implementing the University's international student recruitment strategy. Focusing on ambitious targets for growth in student numbers, the team promotes Heriot-Watt University to prospective students, parents, agents, academic partners and other key stakeholders.
Development of the University's Academic English portfolio is critical to success fully achieving ambitious international recruitment targets. A key strand of the Student Recruitment team's focus is therefore in delivering an attractive range of pre-degree English Language programmes - both on-campus and online - that meets the requirements of our international students in accessing Heriot-Watt degree programmes.
Detailed Description
Our BALEAP accredited Pre-sessional courses develop students' language and study competence to enable them to perform well on their future degree programmes. The popularity of these courses means we have opportunities for additional English for Academic Purposes Assistant Professors on our 6, 10 or 14 week summer courses.
We are seeking individuals who can deliver high quality teaching both on-campus and online and can facilitate an excellent student experience on the Programme. We provide expenses towards accommodation for teachers not normally resident within commuting distance of Edinburgh and opportunities for professional development through the BALEAP TEAP Portfolio scheme.
Key Duties and Responsibilities
Teach Academic English, Research and Study Skills to undergraduates and postgraduates from a range of subject disciplines. Teaching focus will be on developing students' understanding of Research and Scholarship in relation to English-medium university studies as outlined in the BALEAP TEAP Competency Framework;
Prepare students for a variety of formative and summative assessments with particular emphasis on the research and writing text practices and processes required at undergraduate and postgraduate level;
Maintain a flexible, creative and enthusiastic approach to teaching within the specified syllabus, course assessment and learner aims and outcomes.
Demonstrate a keen interest in and awareness of the needs of international students from a wide range of cultural backgrounds;
Mark and grade student work providing timely and regular individual and group feedback;
Attend weekly meetings and moderation sessions with programme/course co-ordinators to ensure quality standards are maintained;
Use and customise existing materials to ensure that programme aims and outcomes are met;
Monitor and maintain accurate records of work and attendance;
Use, engage with and fully exploit the university's virtual learning environment (Vision) including the plagiarism detection software Turnitin;
Attend and contribute to staff development and observation feedback sessions with a reflective focus on the TEAP Competency Framework;
Support of the Social and Cultural programme by accompanying students on visits if needed.
Contract is 35 hours per week full time with 20 hours per week teaching in addition to tutorials, feedback and marking, record keeping, meetings and professional development. Applicants need to be able to work well under pressure and with minimal supervision as part of the English Section team.
Please note that this job description is not exhaustive, and the role holder may be required to undertake other relevant duties commensurate with the grading of the post. Activities may be subject to amendment over time as the role develops and/or priorities and requirements evolve.
Education, Qualifications and Experience
Essential
Masters degree in Applied Linguistics/ELT or equivalent TEFLQ status as recognised by the British Council, e.g. CELTA or equivalent or BALEAP TEAP Portfolio at Fellow level
Experience of teaching on EAP courses in a university setting and designing EAP courses and/or EAP classroom materials
Engagement with the TEAP Competency Framework; ability to work with minimal supervision; team working skills
IT skills (knowledge and application of the VLE); awareness of the demands of research and autonomous learning within a Higher Education context
Desirable
Masters or PhD in a subject area
Experience of providing in-sessional language and study support to university subject areas; evidence of previous scholarly activity and research(e.g. conference papers publications,)
Experience of delivering EAP programmes online
Ability to liaise with subject lecturers;
Technical skills to support online delivery of the EAP portfolio
Background in technical/science or business subject
How to Apply
Recruitment is on a rolling basis and early application is requested. Although applications will remain open to midnight (UKtime) on 30th April 2021, it is likely that most positions will be filled before then.
This role does not meet the minimum requirements set by UKVI to enable sponsorship of migrant workers. Therefore we cannot progress applications from candidates who require sponsorship to work in the UK. For further information on this please visit the UK Visas and Immigration website: https://www.gov.uk/browse/visas-immigration/work-visas.
At Heriot-Watt University we understand that being diverse makes us better which is why we support a culture of respect and equal opportunity, and value diversity at the heart of what we do. We want to increase the diversity of our workplace to underpin a dynamic and creative environment.
Use our total rewards calculator: https://www.hw.ac.uk/about/work/total-rewards-calculator.htm to see the value of benefits provided by Heriot-Watt University.