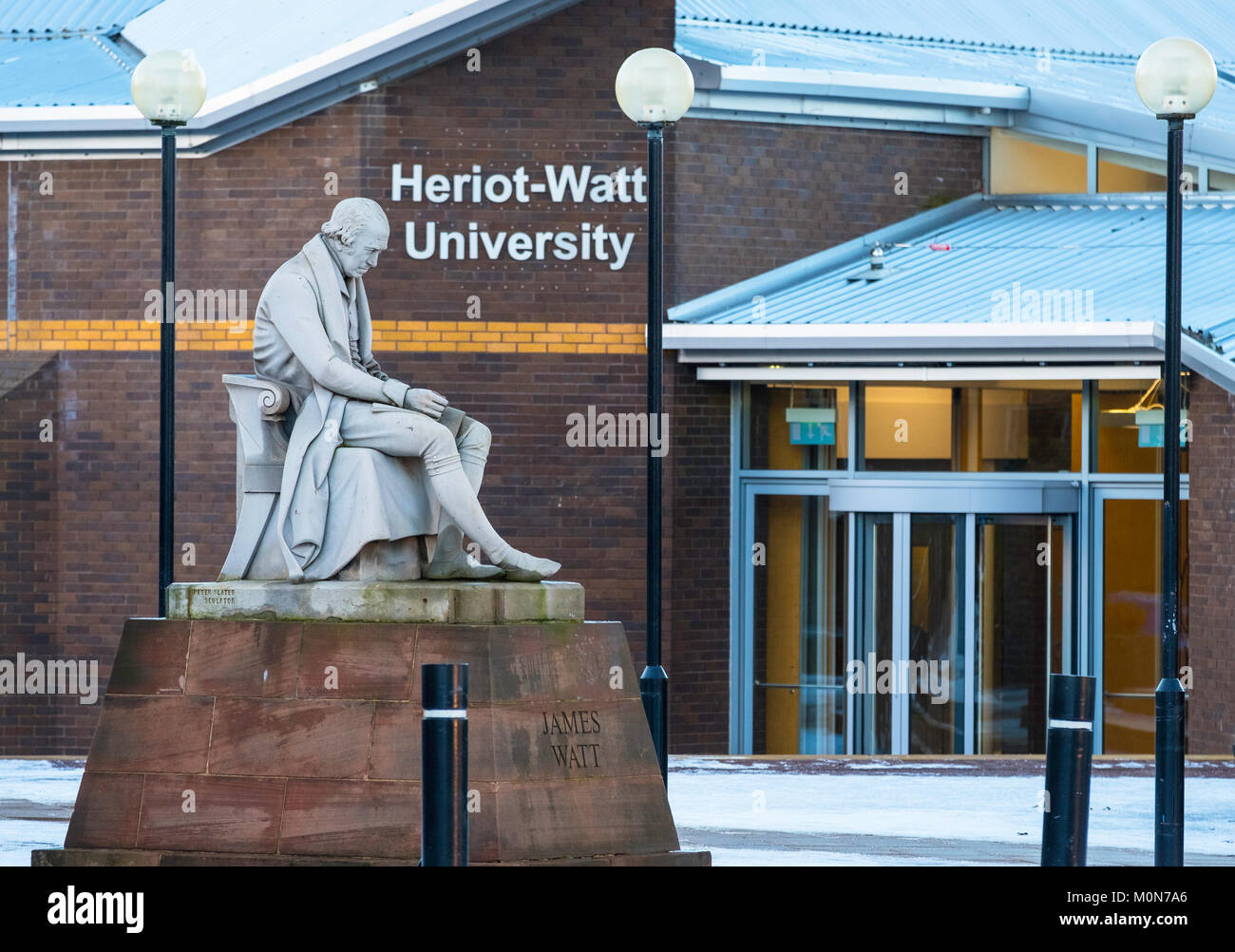 The School of Engineering & Physical Sciences has an international research reputation and close connection with the professional and industrial world of science, engineering and technology. Our research ranges from fundamental sciences through to engineering applications, all of which are supported by strong external funding. We have around 150 full-time academic staff who drive this research activity and are based in 5 research institutes: the Institute of Chemical Sciences, the Institute of Photonics & Quantum Sciences, the Institute of Mechanical, Process & Energy Engineering, the Institute of Sensors, Signals & Systems and the Institute of Biological Chemistry, BioPhysics & BioEngineering. REF2014 named Heriot-Watt in the top 25% of UK universities, with 82% of our research ranked as world-leading or internationally excellent. Heriot-Watt ranked 9th university in the UK and 1st in Scotland for research impact.
The School of Engineering & Physical Sciences has received the Bronze Award from the Athena SWAN Charter recognising excellence in championing employment of women in the fields of science and technology, engineering and mathematics.
In addition we deliver teaching across 6 undergraduate and post-graduate programmes: Chemistry; Physics; Electrical, Electronic & Computer Engineering; Chemical Engineering; Mechanical Engineering and Brewing & Distilling. In the 2019 National Student Survey Heriot-Watt University was ranked 35th in the UK. 90% of our students were satisfied overall with their course in over half of the University's subject areas. At subject area level the School ranked in the top 10 UK universities for Physics and we were 3rd in Scotland for Chemistry and 2nd for Mechanical Engineering and 1st in Scotland for Chemical Engineering.
Our Team
The theory group of Adrian Kantian is working on strongly correlated quantum systems, with a special focus on unconventional and high-temperature superconductivity in novel model systems and ultimately aiming at proposals of realistic materials and devices based on these models. A major aspect of its work is the development of quantitatively reliable theory beyond any currently available, in order to accurately predict the properties of these novel high-temperature superconducting systems. Numerical techniques such as the density matrix renormalization group (DMRG) feature heavily in this, as well as increasingly dynamical mean-field theory (DMFT). These approaches are complemented with analytical techniques as necessary. This work further has multiple connections to other research topics pursued in the group, such as low-dimensional correlated systems (2D magnets and quasi-1D superconducting materials such as the Beechgard and Fabre salts), flatband systems and analog quantum simulations of correlated lattice models in ultracold atomic gases.
Besides the PI, who is in the process of moving major parts of his research from Uppsala University to Heriot-Watt, the group currently consists of two postdoctoral researchers, with a third one being dually affiliated with another group, as well as a PhD-student. Two more PhD-students will be hired to join the group within the coming year. The group has an extended network of established contacts and collaborations with leading theoretical and experimental groups in the UK, Europe and the US.
More background on the group and its activities is available at http://materials-theory.physics.uu.se/kantian/
Detailed decription, key duties and responsibilities:
The successful candidate for this position would work in close collaboration with the PI and other group members on the basic theory of novel high-temperature superconducting quasi-1D systems, such as e.g. 1D quantum wires in contact with external baths. The position requires a researcher with a strong theoretical understanding and a background in numerical many-body physics, and specifically either matrix product state-based techniques (DMRG, etc.) or auxiliary-field/determinantal quantum Monte Carlo, or both. A working knowledge of the theory of strongly correlated quantum systems and superconductivity in particular is essential.
We are looking for a creative and highly motivated researcher willing to work as part of a group.
General tasks will involve scientific research, the communication with other investigators involved in this collaborative project as well as the preparation of scientific papers and the presentation of research at conferences.
The successful candidate will be expected to conduct and lead their own research, whilst also supervising the activities of junior group members and PhD students if required.
Work in this position entails building internal contacts and participating in internal networks for the exchange of information and forming relationships for future collaboration. It involves working with academic colleagues on areas of shared research interest and contribute to collaborative decision making. Join external networks to share information and identify potential sources of funds.
This position further requires contribution, under supervision, to the planning of research projects, including the development of new grant/contract proposals, and making internal and external contacts to develop knowledge and understanding, as well as forming relationships for future collaboration.
Essential criteria:
A PhD in theoretical physics
Capability to be self-directed and think innovatively; energy and enthusiasm for the project.
Ability to formulate and progress work on their own initiative; evidence of research ability: problem solving, flexibility
Background in numerical many-body physics, either in matrix product state techniques (DMRG, etc.) or auxiliary-field/determinantal quantum Monte Carlo
Working knowledge of the theory of strongly correlated quantum systems and superconductivity
Strong programming abilities in either C++ or Python; experience with working on HPC-clusters
A record of decisive contributions to high quality publications, coupled with the experience of writing and managing peer-reviewed papers
Ability to articulate research work, both in technical reports / papers and by oral presentation, and experience in public presentations of scientific results (e.g. conference talks)
Must be able to work as part of the group at Heriot-Watt and the satellite group at Uppsala University, as well as more widely with the collaborators at other Universities.
Desirable criteria:
Evidence of ability to present work effectively in person, e.g. at conferences and seminars.
Working knowledge of low-dimensional systems
High proficiency with UNIX-based operating systems, shell scripts
Experience with parallel programming (shared memory and/or distributed memory)
Experience in leading the writing of scientific papers.
Evidence of ability, subject to opportunity, to guide other researchers, e.g. PhD students and undergraduate project students.
Experience of research-student supervision.
Travel:
The work in this position, while based at Heriot-Watt University in the UK will entail some degree of travel, as parts of the group will be based at Uppsala University (Sweden) for the coming 2+ years. This may necessitate one or several stays at UU in order to facilitate knowledge- and skills-transfer between the research associate in this position and those group-members primarily based in Sweden. It is highly likely that further travel needs will arise from visits of our national and international collaborators in the UK, Europe and the US, as well as for presenting research results at conferences, workshops and seminars.
Interviews will be scheduled week commencing 1/5/21.
For informal enquiries please contact Dr Adrian Kantian at A.Kantian@hw.ac.uk
Applications can be submitted up to midnight (UK time) on Sunday 30 April 2021.
The application file should contain:
A letter describing the applicant and her/his qualifications and research interests, and why she/he would like to join the group.

Curriculum vitae.

Copies of relevant degrees.

Contact information for at least three reference persons.

A full publication list.
You are welcome to mention any personal circumstances you would like us to take into account when reviewing your application, for example periods of parental leave, this can be mentioned in your CV.
At Heriot-Watt University we understand that being diverse makes us better which is why we support a culture of respect and equal opportunity, and value diversity at the heart of what we do. We want to increase the diversity of our workplace to underpin a dynamic and creative environment.
Use our total rewards calculator: https://www.hw.ac.uk/about/work/total-rewards-calculator.htm to see the value of benefits provided by Heriot-Watt University.